First big milestone offers a glimpse into where our users come from and confirms the importance of mhealth support
The release of Gambless, our mobile app tackling gambling addiction, was announced last September. The app – which is accessible on both iOS and Android devices – offers resources to problem gamblers, including informative articles, a self-care diary, coping-skills exercises, diagnostic tests and an emergency chatbot.
Today, less than 5 months later, we can proudly announce to have already given away several hundred free codes, allowing access our psycho-educational resources, amounting to over $120.000.

It might seem like a small number, but it's an important figure for us which we can share proudly, as we are fully self-financed and did not rely on any contribution from neither institutions nor operators. 
GEOGRAPHIC DISTRIBUTION
After the initial months of organic growth, at the beginning of December we decided to start surveying our users about their country of origin and their most frequented gambling operators.
We gathered these data anonymously, and now we have a better understanding of our userbase: in the past 8 weeks, 27% of our registered users came from the United Kingdom and Ireland, 24% are from the USA, 12% Australians, 10% Italians and 5% Canadians. And while we have people registering from all over the world (30+ countries), a handful of countries account for more than 3/4 of our users.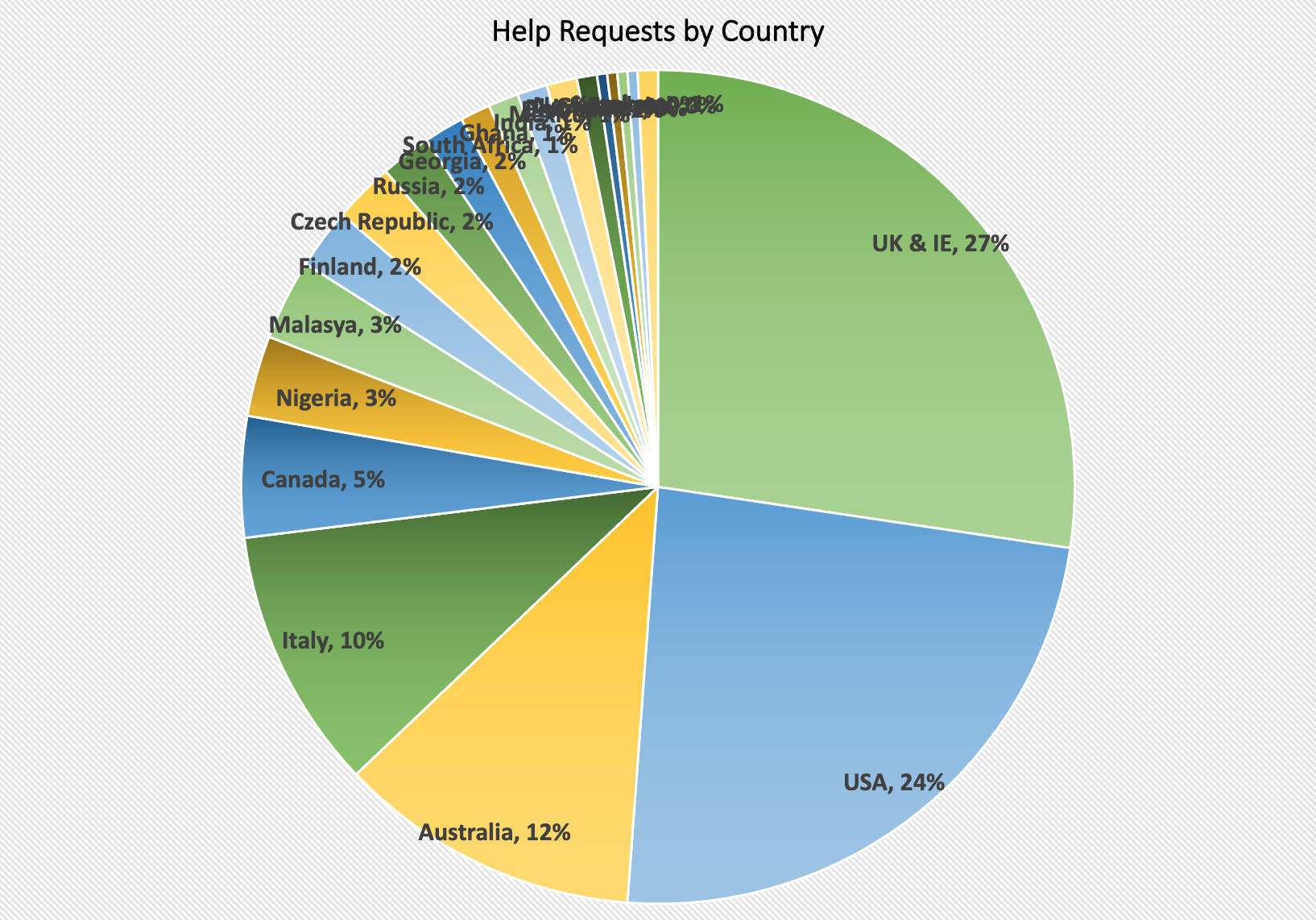 This pie doesn't aim to give a global picture of the gambling addiction issue, considering that at the moment Gambless is available in just 3 languages (EN, IT and RU). But it offers an interesting vantage point.
THE IMPORTANCE OF MENTAL HEALTH AND MHEALTH
Studies show that problem gambling often overlaps with other issues. An estimated 43% of problem gamblers have also alcohol abuse issues, 25% struggle with drugs, 60% have comorbidity with anxiety and depression, and the list goes on. Since its conception, Gambless mission has been to prevent and support problem gambling, with a holistic approach on mental health.
Gambless has been created and developed by the same team of psychologist who designed Mindspa, our other mobile app targeting a broader audience on mental health topics. Combined, the two apps count over 250,000 registered users in less than a year, with 000s of positive reviews.
Gambless aims to address first and foremost the mental health of vulnerable individuals, offering programs covering emotional intelligence, loneliness, stress, jealousy, and features a collection of hundreds of coping skills exercises on feelings like anger, anxiety, resentment, self-distrust, frustration, sadness, guilt, apathy, fear, and so on.
In this context, it is also extremely important that the role of mhealth (mobile health) support.
Smartphones nowadays have a penetration of over 80% in the population of many countries. Thus, thanks to mhealth, treatment and other resources can be accessed more easily, regardless of socio-demographic aspects. Furthermore, support via mobile gives that sense of privacy that often stops problem gamblers from getting the help they need.
OUR PLEDGE
It is a known fact that only between 1 and 3 percent of problem gamblers get support every year. With the help of technology, we have the opportunity to both increase awareness and create a diverse and more accessible landscape of support options. And Gambless wants to be an active contributor of this change.