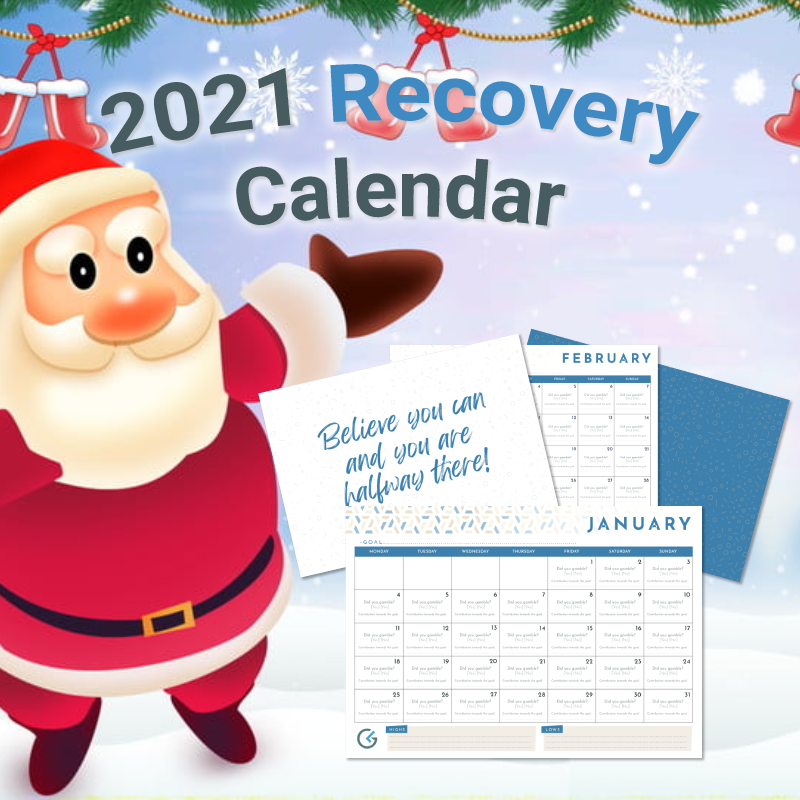 Twenty-twenty has been a challenging year for everyone, and we can't hardly wait for it to be over.
Thankfully we'll be soon turning the page on a new year which we hope will be filled with good news and exciting adventures. And to celebrate the new year in style, we decided to present our "2021 Recovery Calendar" as a gift for all our users in recovery!
Designed to help one deal with the addiction day after day, the calendar puts great emphasis on personal growth & objectives each month. And it can be downloaded and printed conveniently from home.
As developers of a mobile application, we are grateful for technology to enable us to overcome barriers & make treatment available to a larger number of individuals in need. To stay virtual means also more privacy, bypassing the stigma associated with problem gambling.
However, we also understand the enormous importance of human connections and support from the real world. Gambling addiction is often referred to as the hidden addiction because the number of people who open up is extremely low, and that's why we encourage you to print this calendar and show it with pride, without hiding it from friends or family. It will give you an opportunity to share your progress with the people you love.
We encourage you to print this calendar and show it with pride!
Here's a preview of its features:
MONTHLY GOALS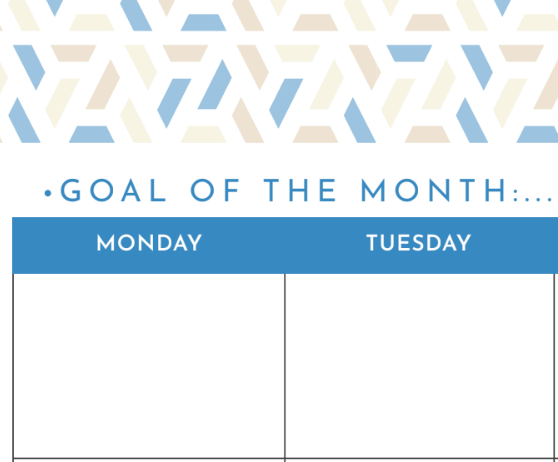 At the beginning of each month, you will be tasked with filling out the "Goal of the Month".
It can be anything: monetary savings, financial objectives, professional aspirations or relationships and family goals. The choice is up to you.
Don't be humble, you are allowed to be ambitious and dream big!
ONE DAY AT A TIME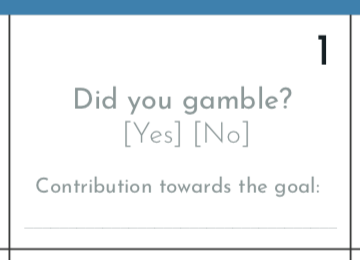 We then took quite literally one of the most effective and well-known mottos of addiction recovery: "One day at a time".
Every day you will be asked not only if you gambled or not, but also about your contribution towards your monthly goal.
Tip: we advise you to buy a big fat red marker, so that your X's will be as visible as possible. It will bring you great satisfaction.
HIGHS AND LOWS
Finally, we realize that not everything will be easy. There will be great days and not so good ones, so we complemented the calendar with text areas for you to write down all the highs and lows of each month.
This feature is important to be able to look back in time and identify areas of improvements. But it will also allow you to express gratitude and practice appreciation.

We have to admit that this year we lacked a bit of organization and started designing the calendar too late for it to be ready to be shipped in time. But we hope you will enjoy this printable version nonetheless. If you like the calendar, click on the button below and download the PDF file. It's free!
We hope you like this small gift & wish you the very best for the New Year!
---
About Gambless
Ranking 1st on both Google Play and App Store, Gambless is the only mobile app to provide support to problem gamblers with a holistic approach on mental health.
In just over 3 months, our community has grown to about 2,000 problem gamblers in recovery, and we couldn't be more humbled by the feedbacks received. We have given away hundreds of free codes for users to have unlimited access to our resources. Without taking 1 cent from our users and without any contribution from operators or governments.
If you haven't tried our psycho-educational courses yet, take a self assessment test & claim your free access!